As the leader in our industry DADCO's expertise is demonstrated in our comprehensive range of nitrogen gas springs extending from 10 pounds to 22 tons. Our products top the industry in craftsmanship and innovation. To further assist our customers with product selection and design, we provide an online catalog with complete dimensional, mounting and accessory information with downloadable CAD models.
Click the link to the right to access the Digital Version of our popular Sixth Edition Mini Book. This Mini Book is also available as an App for download on iTunes and Google Play.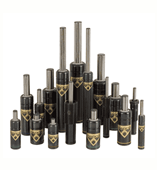 C Series – Micro Nitrogen Gas Springs
DADCO's patented Micro Nitrogen Gas springs are the ideal replacement for conventional coil springs. Their consistent, reliable force makes them the perfect choice for use in metal stamping; general tool work, such as jigs and fixtures; machine components; and plastic injection molding.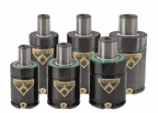 LJ and L Series – Miniature Nitrogen Gas Springs
Ideal for stampers of small parts, these extremely popular springs are durable and conveniently available in three force models (0.3 ton, 0.5 ton, 0.75 ton). Operate as self-contained or linked together using DADCO's exclusive MINILink® system.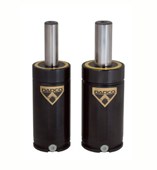 FCL Series – Cushion Nitrogen Gas Springs
DADCO's FCL Series is ideal for press driven cams. Available in two force models (0.3 ton, 0.5 ton) they feature a reduced force increase during travel and a decelerated force on the return travel.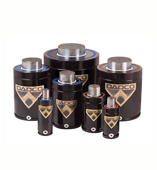 90.10 / 90.8 Series – Full and Compact Height Nitrogen Gas Springs
DADCO's widely accepted full-height 90.10 Series is based on the ISO standard. With seven force models (from 0.17 ton to 10 ton) this series provides the greatest stroke length variety available from DADCO.  The 90.8 Series is a compact-height alternative, saving 25 mm to 50 mm in height over the 90.10 Series. This series is available in five force models (from 0.75 ton to 7.5 ton). Both series can be operated self-contained or in a linked system and use the same comprehensive assortment of attachable mounts, welded mounts and accessories.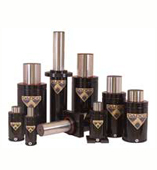 UX Series – Ultra Force Extended® Nitrogen Gas Springs
The UX Series fits the standard full-height gas spring envelope with 25-55% more force-on-contact; resulting in reduced die construction costs with fewer cylinders. This series consists of seven force models (from 0.7 ton to 22 tons), can be operated self-contained or in a linked system and uses the same comprehensive assortment of attachable mounts, welded mounts and accessories as the 90.10 and 90.8 Series.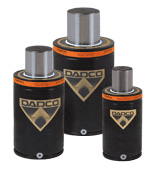 90.10 DS Series – Die Storage Gas Springs
DADCO's 90.10 DS Series have a reduced rate of return making them an ideal choice for die storage. Directly interchangeable with ISO 3000-7500 models, this series has a lower operating temperature and decreases overall wear on the gas spring and press components.

Compact Pressure Indicator
The Pressure Indicator is a preset component that provides a visual pressure status for select nitrogen gas springs. It is a factory installed option, set to indicate if gas spring pressure falls below a minimum value.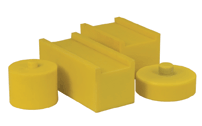 TEC Die Storage Blocks
TEC Die storage blocks are a safer alternative to traditional die storage blocks. Used to separate dies during storage; these blocks are resistant to brittle fracture and impervious to many types of oil and grease. Blocks are available in standard or customized sizes and provide high energy absorption, with excellent load capability.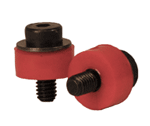 Cinch-Lock
The Cinch-Lock is an alternative to bulky mounts for nitrogen gas springs with a 50 mm body diameter and smaller. Comprised of a bolt and urethane ring set, a Cinch-Lock secures the gas springs in a pocket without additional mounting components and permits easy removal of the spring while still in the press.
Gestamp Specific Catalog
The Gestamp specific catalog features a subset of DADCO products curated primarily for new design/ build big Gestamp die design engineering. DADCO's popular micro series Ultra Force ® Series and 90.10 Series Nitrogen Gas Springs are included along with linked system components.
European Standard Products
Nitrogen Gas Springs – EU
The Nitrogen Gas Springs – EU catalog features the full range of DADCO products that correspond to the European VDI standard specification. Nitrogen gas springs are organized by force and diameter followed by standard mounts. Repair kits, operating specifications and installation requirements are also provided.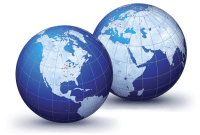 DADCO provides superior support for all our products worldwide. In addition to the broad list of product information accessible through our English website, we also publish product literature in a variety of additional languages. Click on the language link below to access the collection of electronic documents distributed in that language.