September 2017
DADCO Opens a New Office in Japan

DADCO is pleased to announce that we have opened a sales office in Japan. DADCO Japan, Inc. will fully support the Japanese market for all customer business for DADCO, Inc. The new location will start taking orders on September 21, 2017. Customer's previously purchasing DADCO products through
Dayton Progress Japan will now be able to purchase directly from
DADCO Japan.
2370-7 Kamimizo Chuou-ku Sagamihara-shi Kanagawa-ken 252-0243 Japan
〒252-0243 神奈川県相模原市中央区上溝2370番地7
E-mail: ds@dadco-japan.jp
January 2015
New Die Storage Gas Springs from DADCO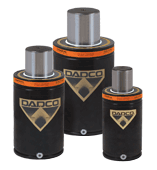 DADCO's new 90.10 DS Series is designed with a reduced rate of return, making it an ideal choice for die storage. These models are a direct replacement for traditional die storage components and do not need to be removed from the die before installation into the press. Offered in three sizes the 90.10DS.3000, 90.10DS.5000 and 90.10DS.7500 are directly interchangeable with ISO 3000-7500 models. Only a small portion of the 90.10 DS total stroke is engaged during each cycle. When compared to a standard gas spring used in die storage applications, the 90.10 DS returns at a moderated speed, ultimately resulting in lower operating temperature, reduced wear on the press components and long spring life. DADCO recommends using 90.10 DS cylinders in each corner of a die for equal balance distribution and separation.
A four-page, color bulletin introducing the new 90.10 DS Die Storage Gas Spring is available from DADCO. It contains ordering information and application data.
September 2012
New! FCL Cushion Series from DADCO
DADCO is pleased to introduce a new line of cushion series nitrogen gas springs. The FCL Series is a mini-sized gas spring with a cushioned return during the last 2-4 mm of stroke to reduce both return force and the increase in force during travel.
The FCL Series is available in two models: FCL.503 and FCL.755. The diameter of FCL.503 is 44.5, with force-on-contact of 302 daN. The FCL.755 has a diameter of 50, with a force-on-contact of 471 daN. Both FCL models have stroke lengths up to 125 mm and are well-suited for die-driven cam applications.
A four-page, full-color bulletin containing ordering examples, operating specifications, and application examples is available from DADCO.
July 2012
DADCO Opens a New Office in Brazil

DADCO is pleased to announce that we have expanded operations to Brazil with a new division: DADCO FERRAMENTAS do BRASIL, located in São Paulo. The Brazil office will service local customers and provide additional worldwide coverage and support.
DADCO FERRAMENTAS do BRASIL is at Rua Botucatu, 39
São Caetano Do Sul, São Paulo, CEP 09550-060, Brazil.
April 2012
DADCO Introduces Integrated Online Catalog
DADCO's website has been updated to include an integrated online catalog. This new online catalog has an easy-to-use interface providing quick access to DADCO's wide range of products including, nitrogen gas springs, nitrogen gas lifters, nitrogen gas linked components, guide retainer sets, power cam and power pump systems and air cylinders.
Navigation through the site is easy: Simply choose the picture or description to find the suitable product. Once the model and stroke length are selected, a product details page is displayed. Customers may view a 3-D model of the product or, with quick registration, get instant access to CAD models. Models are available in a full variety of formats including SAT, STEP, CATIA, IGES and DXF.
With these enhancements, the website maintains the same user-friendly organization customers expect from DADCO. Detailed product information is only a few clicks away anywhere on the site. In addition, a search feature is at the top of each page to assist customers.
March 2012
DADCO's New SLN.180 Flange Model Lifter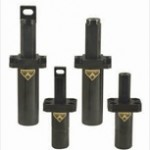 The new SLN.180 flange model micro-nitrogen gas lifter from DADCO provides an all-in-one approach to flanging applications. This robust 50 mm diameter body lifter is available with two guide rod options: FA with a domed rod and rod locator for attachment to the upper die and FB with a flat rod end. DADCO's popular Micro 180® gas spring, housed inside the guide rod, provides reliable lifting force.
The SLN.180 flange model provides on-contact force up to 80 pounds and is available with stroke lengths from 63 mm to 200 mm. The lifter meets Ford die standards for stamping components.
A two-page, full-color bulletin introducing the new SLN.180 flange model micro nitrogen gas lifter is available from DADCO. It contains solid model drawings, ordering information and application data.