DADCO's Guide Retainer Sets (GRS) reduce die construction by replacing common pins, bushing and spools. This product line features a robust design using a one-piece housing with top and bottom wipers, precision fit retainer housing, composite bushings and two retainer mount options. Attachment holes at the top of the guide rod accommodate long fasteners for increased thread engagement and enhanced impact resistance.
Guide Retainer Sets
Standard and Heavy Duty Guide Retainer Sets (GRS / GRS.HD)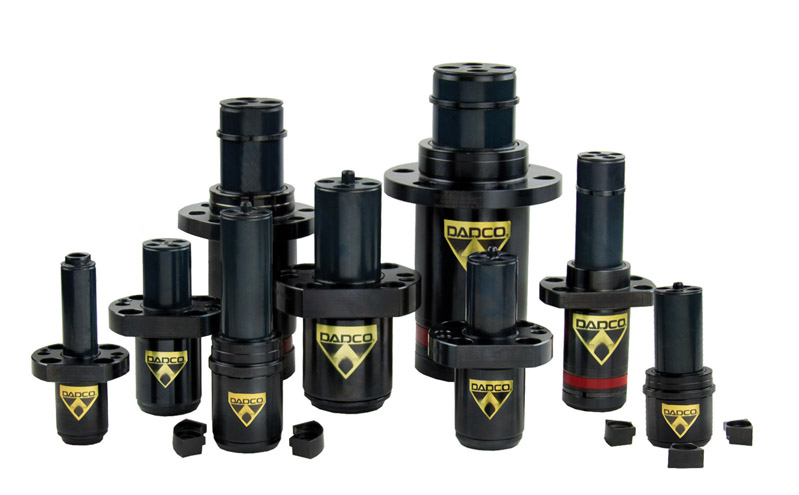 The GRS Series is available in four rod diameter models (25 mm, 30 mm, 36 mm and 50 mm) and may be ordered in stroke lengths from 20 mm to 150 mm.  The GRS.HD Series is available in three rod diameter models (36 mm, 50 mm and 65 mm).  These models come in a variety of stroke lengths to match automotive standards.  The robust construction permits up to 10 times the attachment mass and increased operating speed over the standard GRS models.
Two retainer mount options are provided to accommodate a variety of mount configurations: Flange Mount or Toe Clamp. The Flange Mount option is available for all four models and encompasses a one-piece guide retainer with integral mount featuring four mounting holes. The Toe Clamps are available for GRS.30 and GRS.36 models only. Wide toe clamps in sets of two or narrow toe clamps in sets of three can be ordered with the guide rod and guide retainer. Toe Clamps may be purchased separately for personalized mount configurations.
Heavy Duty Guide Retainer Set – Retrofit Model (GRS.50.HD.R)
The GRS.50.HD.R is a retrofit model for the General Motors (GM) 50 mm guide rod diameter Guide/Keeper. This GRS is available in 9 Pin Lengths to meet the GMNA standard specification (N90.80.915) for Progressive Dies.