DADCO welcomes customer input regarding product use and requests for new products. Our team will partner with you to determine your needs and find a solution that will best benefit your application.
Nitrogen Gas Springs
Nitrogen Gas Spring Systems
Delay Return System (DRS)
DADCO's Delay Return System (DRS) is used in die applications when it is necessary for the return stroke of the cylinders to remain retracted during operation. This customized nitrogen-over-hydraulic oil system allows for the hydraulic cylinders to function as normal gas springs during the down-stroke then remain retracted with minimal spring-back as the die opens to prevent deformation of the part.  A DRS is comprised of four main components: cylinder, accumulator, control panel and hydraulic hose with fittings.
SMS® and SMS-i®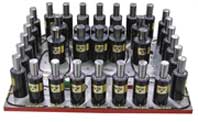 Customized linked nitrogen gas spring mounting systems are available as an alternative to manifold systems: Sectional Mounting System (SMS®) and Sectional Mounting System – Internal (SMS-i®).  Both systems are cost effective, lighter, and easier to handle and store over comparable manifold systems.  Each SMS® and SMS-i® is constructed to individual customer specifications then tested and shipped leak-free, ready to install.
Nitrogen Gas Spring Accessories