DADCO's Power Cam and Power Pump System is designed for use in dies requiring secondary operations such as punching, piercing, forming or flanging and may replace existing tooling to create a simplified design.
Power Cam and Power Pump Systems
Power Cam System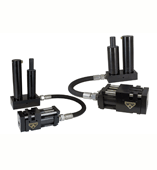 Designed with high quality, guided components to ensure exceptional life, DADCO offers two Power Cam and Power Pump Systems with different force ratings (15 kN, 40 kN) to accommodate a variety of operations. Each system requires at least one Power Cam, one Power Pump and a communication method between the two, such as hydraulic hose.
The Power Pump consists of a hydraulic cylinder and nitrogen-over-oil accumulator mounted to a base manifold. The Power Cam is a compact actuator that is driven by the Power Pump and can be installed in any orientation. When the same series and stroke models are paired together the Power Pump will transfer its travel, speed and pressure to the Power Cam at a 1:1 ratio.