Hydraulic Core Pin Cylinders (DK Series) are designed specifically for use in plastic injection molds. Constructed with a one-piece round steel body and rear port capability, they are ideal replacements for bulky, square head, tie-rod style hydraulic cylinders.
Hydraulic Core Pin Cylinders
Core Pin Cylinders –
Discontinued!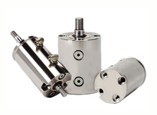 Ideal for plastic injection molds, the DK Series is available in two bore sizes (40 mm & 50 mm) and built with long-lasting high-temperature seals to withstand temperatures inside plastic molds; up to 204°C (+400°F) for constant duty and up to 260°C (+500°F) for short durations. Optionally, these cylinders are available in a double rod end model and a non-rotating model for use in a variety of applications.