Guide Retainer Sets: GRS Series

DADCO's GRS Series provides combined guidance and retention. Available in four guide rod diameters (25, 30, 36 and 50) this product can accommodate variable loads. The GRS has three mounting options including an integral flange mount and toe clamps that can be ordered as two wide clamps (W2) or three narrow clamps (T3).
Delay Return System

DADCO offers a custom solution for die applications requiring a delayed return stroke. The patented Delay Return System (DRS) is a nitrogen-over-hydraulic oil system that features a delayed return stroke for forming operations. Each system is comprised of four main components: cylinder(s), accumulator(s), control panel(s), and hydraulic hose and fittings. A 4-page bulletin provides information about the system components, how it operates and the requirements to request a quote.
SCR Series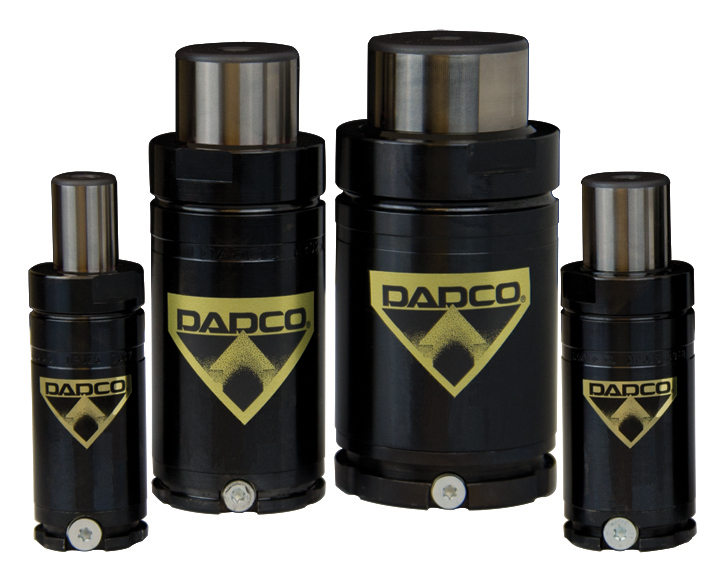 DADCO's Nitrogen Gas Spring SCR Series offers high force in a compact package. The SCR Series is completely serviceable, available as self-contained or linked and has up to 3.2 tons of force on contact.
DADCO's SCR Series comes in four models with diameters ranging from 32 mm – 63 mm.  Several mount options are provided to accommodate a variety of mount configurations.
High Temperature Options

DADCO offers a selection of nitrogen gas springs with high temperature components to extend the maximum temperature range. H1 gas springs are well suited for applications up to 110°C (230°F) while H2 gas springs allow for applications from 110°C −200°C (230°F−392°F).  Complete product specifications are included in a 4-page bulletin.  Limited models are available, for more information contact DADCO.
Ultra Force Extended® Series

DADCO's Ultra Force Extended® (UX) Series includes a UX.0800 model featuring a 44.5 diameter body and force up to 7.3 kN.  Additional long stroke lengths, up to 300 mm, are available for the UX.1000 – UX.20000 models.  This series features numerous attachable and welded mount options.  A 24-page catalog provides all the details.