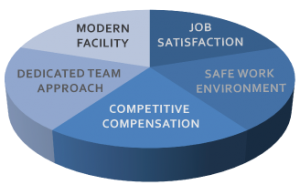 DADCO is a world-class manufacturer of nitrogen gas springs and die components for multiple industries. Our exceptional quality and customer service have positioned us as the market leader. We take a collaborative approach to all projects and encourage employees to share insight and knowledge.  We are always looking for eager, solution-oriented people to grow with our team.
We offer a professional atmosphere, modern facility, corporate activities, competitive compensation and a generous benefit packing including 401(k).
Current job openings include:
Production Assemblers
Machine Operators
Shipping Associate
Receiving Associate
Weld and Weld Turning
To see all of our open positions, head over to LinkedIn to apply today!
<!–Please fill out the applicant information form and email it back along with your resume to jobs@dadco.net.
To find out more about us follow us on Facebook, Twitter and LinkedIn @dadcoproducts.